Forums » Discussion »
Getting ready for the OHS
Added by J. Simmons about 10 years ago
We will be demo'ing Shepard at the Open Hardware Summit on Sept 27. I want to use this thread to organize our work for the demo table. We need to work on the following items to get ready:
The poster - see info below for details
Fliers/Handouts - what info do we want to have on handouts about Shepard, Mach 30, etc
Video of Shepard tests (and assembly photos, etc) - we cannot do live demos so we need a video of operations to show off the coolness
Ship Test Stand to NYC - need to check with OHS to see if we can ship it directly to EyeBeam and we need to set a drop dead ship date for it to arrive by 9/26
Let me know if I am forgetting anything. Just as a reminder, here is the text of our submission of the demo.
Description:
This demonstration is intended to share Mach 30's progress in open source spaceflight and to encourage attendees to get involved by building their own test stands at their local hackerspaces.

The Shepard Test Stand (https://opendesignengine.net/projects/shepard-ts) is an open source test stand for Estes rocket motors. This project is the first in a series of open source projects to develop the required skills for the practice of safe rocket engine operation, and to develop the capability to measure and record data about a rocket engine's performance. The use of Estes class motors provides a relatively safe environment to learn in before moving to higher powered motors and engines. The ultimate goal is to develop test stands for full scale liquid rocket engines for use in orbital launch systems.

The demonstration will cover the design and operation of the Shepard Test Stand. Visitors will be shown the components of the test stand and their function in rocket testing for both large and small rockets. Afterward, visitors will be walked through the rocket motor test process. If outdoor space can be provided the demonstration will include a live motor test, otherwise videos of previous tests will be shown. Upon completion of the test (or test videos) visitors will be shown how to interpret the results of a rocket motor test. The demonstration will conclude with how visitors can build their own test stand and get involved in future development.
Info from OHS about the demo table and poster:
Demo
You'll have half a table for your demo and one outlet. Please bring your own power strip if you need to plug in more than one device. Keep in mind this is an informal project demo, and complex requirements/constraints (light/sound conditions, etc.) will be difficult to accommodate.

Poster
This year we're requiring demo presenters to also bring a (printed) poster, which will function as signage, information about the project, and documentation for posterity. Here's an example of a good poster: http://smus.com/chi-2010-poster/ubiquitous-drums-poster.jpg. You have a lot of creative latitude, but when designing your poster try to think of what you'd want people to know about your project if you were unable to talk to them in person.

Recommended poster size for demo presenters is A1 (or 24 × 36 inches) portrait. Please let us know if, for any reason, this format doesn't work for you.

Digital poster files will be published on the OHS website after the event.

If you have any questions about posters or would like to know more about this type presentation, please email our Poster Chair, Paulo Blikstein at summit-posters (at) oshwa (dot) org. Paulo has extensive experience with this format and will be able to give you good advice.

Please send your digital poster file to Paulo by August 31st, but remember that you will have to print it and bring it to the summit yourself.
Example poster mentioned above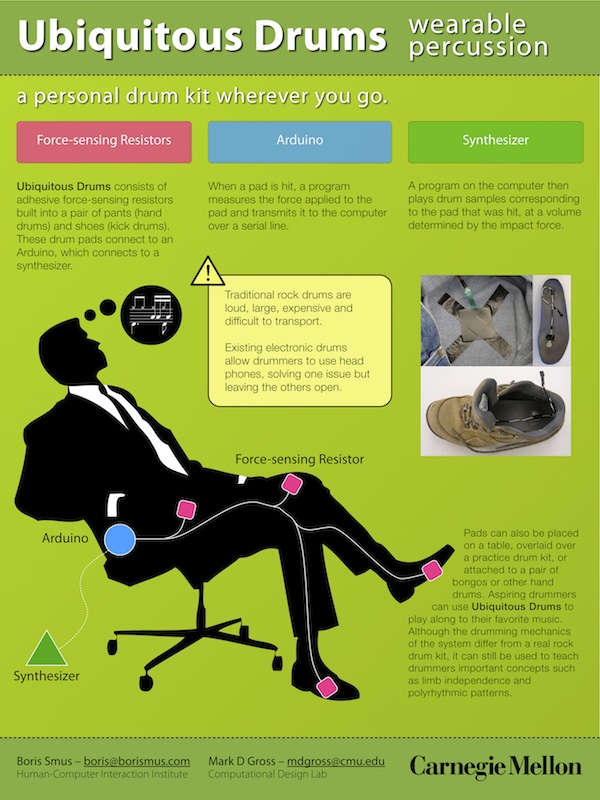 Further instructions about the demo from the OHS coordinators:
1) We extended the deadline to send your poster to us for a final review to Sept 10th -- Paulo Blikstein, our Posters Chair, needs to receive a pdf or jpg of your poster asap to give you some quick feedback and add your poster to our website. When emailing, please try to keep file size below 2MB. Remember that poster dimensions are A1 or American equivalent (24 x 36 inches - portrait) for posters accompanying demos.

2) Remember that you should bring your printed poster and working demos to Eyebeam the day before the summit. Setup time is September 26, from 10 am to 6 pm at Eyebeam. Needless to say, all kinds of things go wrong when you have to demo, so make sure you have ample time to assemble and test things and that you bring everything you need. We'll have a power outlet available and table space.

3) Here's some advice from Paulo:

Even though you might be a veteran in demoing your work, keep in mind that posters are slightly different. Your poster should have two goals:
a) A quick summary of your project for people who don't want (or don't have time to) talk to you. In this scenario, people might walk by your poster, stop for a few seconds, and move on. So you want communicate your "take home" message quickly, in a sentence (or image) or two. The best way to do it is to design your poster in a way that that message is clearly highlighted -- using little text, lots of cool graphics/images, and a large font.
b) A conversation starter for people who might want to get more information. Some people will talk to you and try to go deeper into your work -- for that scenario, you want your poster to support the conversation, so imagine that you will be talking to attendees and pointing to things on your poster. For that purpose, make sure you have pictures, schemes, diagrams, and summaries of your conclusions that will guide that conversation. Also, a good thing to do is to rehearse a 1-minute summary of your poster -- when people are walking around a poster session, they want to see as many things as possible, so keeping them for too long is not a good strategy.

Two other important points:
- Make sure the "follow up" information is easy to find: websites, QR codes, business cards, postcards, handouts. Remember that people will see tens of posters and demos and sometimes the only way to remember your work will be a handout (in any format). Make sure people know what is the next action in order to know more about your work -- email you? Go to the website? Buy the product?
- Keep in mind that many people will try to remember your work by taking pictures with their smartphones, so make sure your poster is "picture-friendly" as well.

4) Again, here's an example of a good poster: http://smus.com/chi-2010-poster/ubiquitous-drums-poster.jpg

5) Digital poster files will be published on the OHS website after the event.
Replies (13)
Did we miss the deadline on submitting the poster? It says to send a digital copy to Paulo by August 31st.
I'll take 1080 HD video as I do live tests with the stand/software.
J - Do we want to try to do one more meetup at Club Cyberia before the test stand gets shipped to OHS?
Also, can we put an exact deadline for shipping the test stand to OHS here? I'm pretty sure we talked about shipping a week early.
Deadline - Doh!, I totally missed that in all the times I read that email from OHS. I just sent Paulo an email asking about the deadline. I'll let you know what he says.
More video of tests - Great!
Meetup at Club Cyberia - I am all for that if the schedule permits.
Shipping - I added items about shipping the hardware to the list in the initial post and I will work on determining a required ship date. Jeremy, can you take an estimated weight of the test stand (I already have the dimensions) so I can get shipping quotes?
Shipping - The test stand weighs 16.8 lbs, so with electronics you're probably looking at 17 lbs.
Here's a dump of pictures (or links to pics) that I thought would be good for the poster or video
I have updated the initial post with more info I got today from the OHS. Note the deadline for an e-copy of the poster is now Sept 10 and the setup hours for the demo are 10AM-6PM Sept 26.
Also, big thanks to Greg for putting together a mock-up of the current thoughts on the poster design. I have talked to Bekah about it and it all seems like a go. Jeremy, we will need to get up to date screen capture (hi-res for printing) of the plot(s) for the poster this weekend so we can use them on the poster.
Just did some research about shipping costs. Assuming we can pack it in a box close to the dimensions of Shepard and we include no more than 5 lbs of additional material in the box for use in the demo (things like power bar, stickers to give away, etc) then the cost would be $17.60 each way, and we could ship it as late as 9/21 and have it arrive by 9/25. I recommend we aim to ship it on 9/20.
I will check with the OHS folks to see if there is any problem shipping Shepard directly to the summit location.
The final poster is done, and submitted to the OHS (see the attached pdf). I got the following reply from the poster coordinator this morning.
Thanks for the poster! Looks great.
Thanks to everyone who worked on the poster (especially Bekah) and who helped out with Shepard throughout the project. I am very excited to take it to NYC.
Attaching screenshot of the test stand in operation.
J and I are meeting at Club Cyberia in Indianapolis on Saturday to do some testing on Shepard. I'm starting a checklist here so that I don't forget to bring anything.
1. Test stand
2. Concrete block
3. Arduino and shield
4. Box of motors and accessories
5. Foil tape (Kapton tape too if I can find it before then)
6. Poster tape (for mounting the FSR)
7. Electronics travel kit
8. Laptop with Shepard software already on it
9. 2 printouts of the Shepard operations procedure
10. Aluminum foil (to wrap thermocouple leads in if needed)
11. Spare thermocouple (I purchased it in case we burned the first one in two)
12. Video camera
13. Tripod
I've looked over this list a few times, and I think it looks good. I will go update my copy of the source code right now so my machine is good to go as well.
I'm doing the calibration on the FSR tonight, so you might want to pull the changes down first thing in the morning so that your software will be reading in Newtons instead of volts.
Will do. And I did think of something to add. Long USB cable.
And an extension cord and a power strip.
(1-13/13)